Vail's Legacy Address – 375 Mill Creek Circle, Vail, Colorado 81657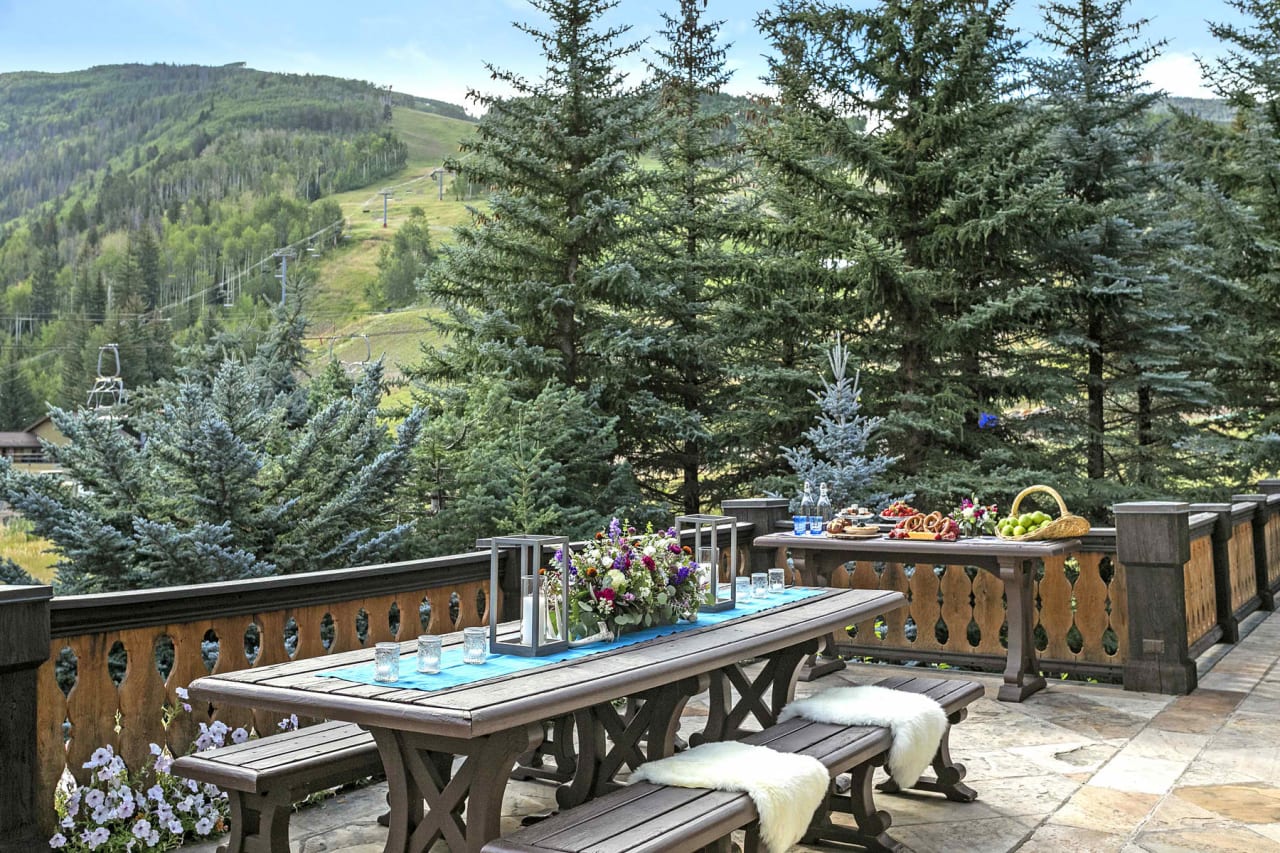 A homesite chosen by the original investors of Vail Mountain for its unparalleled access to the ski slopes, unobstructed views of the Gore Range and pristine natural surroundings, combines timeless luxury with impeccable craftsmanship while absorbing the incredible history of this premier ski-in-ski-out location.
The European-style chalet, built in 1996 by George Shaeffer Construction, was built with the family in mind, suitable to sleep up to 18 people comfortably and play host to children and grandchildren during the holidays and family ski trips. Immediately off the backyard, which backs up to the Golden Peak base area and is surrounded by old-growth aspen and spruce trees, are the Gopher Hill chairlift and Elvis Bahn magic carpet that service beginner-level skiers. A few steps further is the Riva Bahn high-speed quad, which leads to Chair 10 and Chair 14 — long-considered by locals to be the quickest, most efficient route to . From the front of the home, and the heart of Vail Village, with its world-class dining and nightlife, are just a few steps away. And there simply is no better location to enjoy culture and events, such as the New Year's Eve torchlight ski-down, Fourth of July fireworks and the .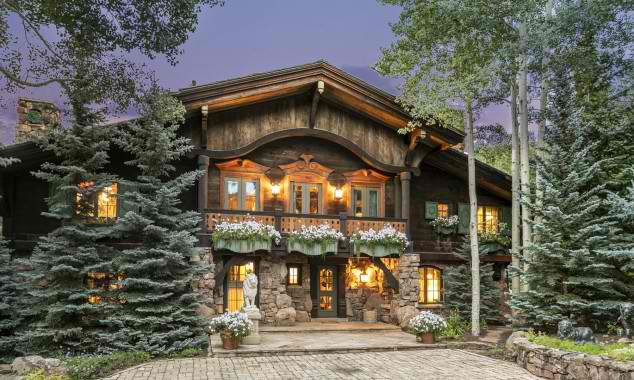 With a welcoming courtyard that encircles a hand-laid, snowmelt driveway — one of two on the property — the home's exterior is characterized by wooden arches and dry-stacked moss rock, expertly assembled by hand without mortar and held in place by its own weight, a signature feature of the home that seemingly blends into its natural surroundings.
Inside, the home was meticulously created by designers and artisans to emphasize flow and privacy with limestone flooring, hand-trough Venetian plaster walls and harvested from Hawaii, hand-carved by famed woodworker Rudi Neumayr. Six bedrooms reside on the entry level, each with its own theme captured in European fabric walls. Within the children's bedrooms, distinctive motifs for boys and girls, oversized twin bunk beds, and a magical world of secret cubby holes await. Separated by four-inch solid-wood pocket doors, each bedroom enjoys unique elements, access to the wraparound porch, and en-suite bathrooms with oversized marble-slab bathtubs.
A hand-forged wrought-iron railing on the stairway leads to the home's awe-inspiring great room, which features tongue-and-groove, doweled rafters above matching Koa floors. This grand living space spares no expense or attention to detail with direct, unmitigated views of the spectacular Gore Range. The great room adjoins an oversized flagstone deck and outdoor living space, perfectly positioned to peer over the treetops at the iconic mountain scenery that has come to define the Vail experience. Below, a luxurious and private backyard is protected by the surrounding trees and features custom stonework, an outdoor speaker system, and most notably, an enchanting four-season swimming pool with an indoor/outdoor entrance that allows pool-goers to forgo the cold winter air.

Back on the main level, a classic dining room sits adjacent to the great room boasting direct views of the Gore Range and an architecturally designed plaster ceiling. Within this space is a custom-made Koa wet bar, hand-crafted by Neumeyer, with a shimmering copper sink. A handmade tapestry and glass divider separates the professional-grade kitchen from the dining room, providing the option for an open and connected dining-and-kitchen area or more privacy, making for the best of both worlds. The kitchen itself features commercial-grade, stainless-steel appliances, a dumbwaiter to the home's lower entrance, and storage suitable for large parties and holiday gatherings. As with the rest of the home, no attention to detail was spared with a hand-painted ceiling, custom European cabinetry and beautiful pine countertops.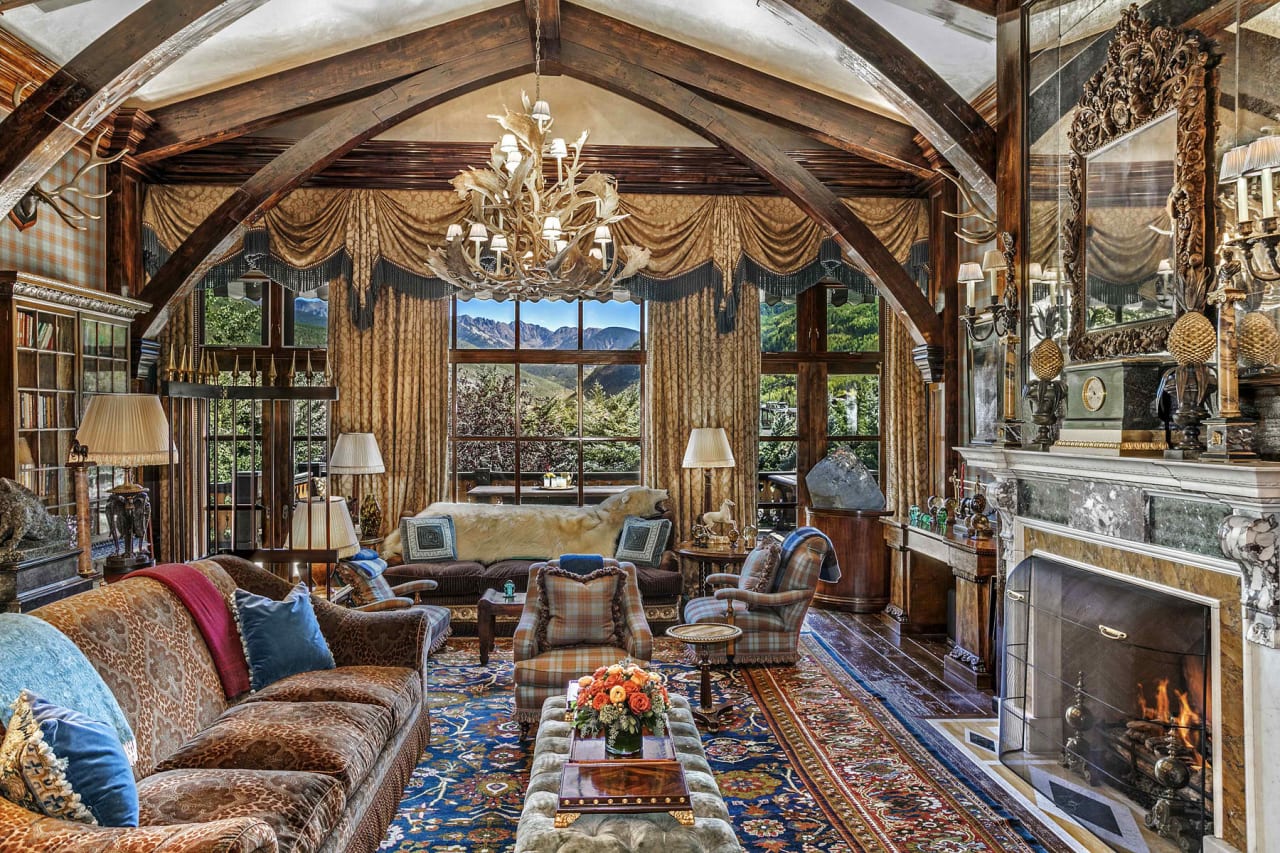 On the opposite side of the great room, an intimate library connects the home's master suite. Featuring custom crown molding and huge four-inch-thick pocket doors that separate it from the great room, if desired, this elegant and relaxing space is perfectly designed to either intermingle with the home's primary living space — or it can be cordoned off and used as a private and more isolated study. The master suite is just steps away featuring ornate his and hers bathrooms. Hers contains an elegant fireplace and oversized marble tub, while his features a dramatic walk-in steam shower. The elaborate master bedroom is highlighted by direct Gore Range views, custom walk-in closets and dressing rooms, a fireplace of its own, a private south-facing deck, and uncompromised seclusion from the rest of the house.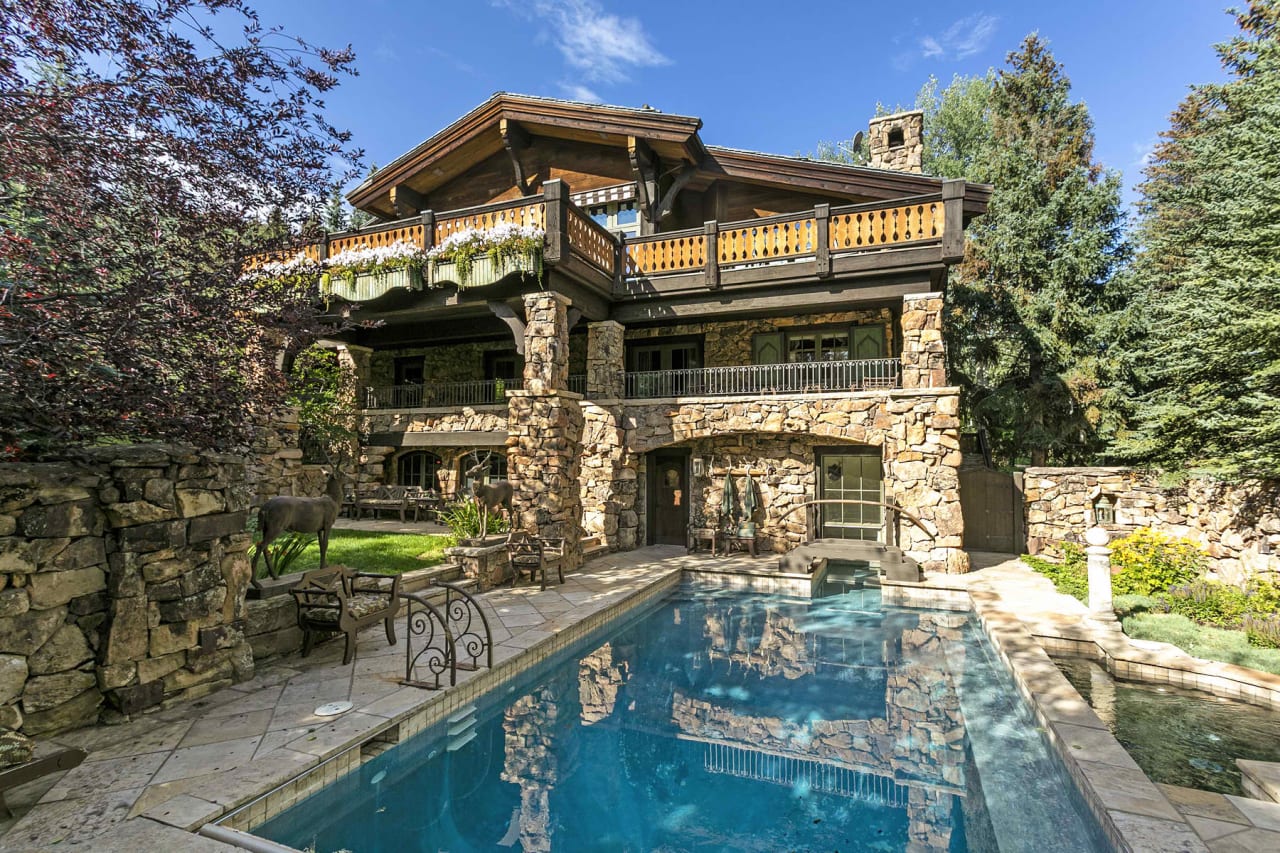 Downstairs is where the real fun happens. An oversized media room/game room is large enough for a billiards table and a plethora of lounge space, perfect for after-ski movies or a football game between laps on Golden Peak. A commercial popcorn maker and full service wet bar, masterfully concealed, are just some of the amenities available in this downstairs living space. The indoor entrance to the swimming pool and access to the ski slopes are just steps away, made all the more accessible by a custom ski locker room outfitted for the whole family with plenty of storage for gear and equipment, as well as a private bathroom.
With unmatched privacy, proximity to the ski mountain and breathtaking views of Vail's most iconic scenery, 375 Mill Creek Circle is a historic legacy property waiting to form memories for generations to come.